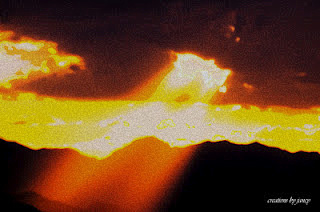 upon request, notecards are available
"If you could have seen where Jesus brought me from to where I am today, then you would know the reason why I love Him so.  You can take this world's wealth and riches; I don't need earth's gain.  It's my desire to live for Him."
Sunday morning sitting on the front row of the church where my life took a "U" turn, these lyrics began to race through my head; words from an old hymn I sang as a 14 year old girl.  At the same time, I felt overwhelmed by the love of a big and gracious heavenly Father.  Love is what brought me to Jesus.  How about you? 
Some people turn to Christ out of desperation; a need for hope.  Others turn to Jesus during the storms of life in need of peace or protection.  For me it was a need to be loved. Regardless of what drew you and me to Christ, we are here and it is good!  Today is really, really good because, I realize dawn is breaking over the "dark night" of my soul ... just like the first Sunday morning I sat on the front row of my first church! 
I've had many "dark nights" throughout my life and while it's never a pleasant experience, I have found them very profitable to the strengthening of my character and the burning away of the dross in my life.  Why?   It's during these "dark nights" God grows me up and grows me closer. 
I learn to depend on Him more deeply.  I learn to return hurt with love.  I learn that nothing is impossible with God.  Taking my vices, he creates virtues within me; pride gives way to humility, simplicity pushes greed out the door, contentment fills my soul as anger dissipates, peace overwhelms the anxiety, bubbling up like a hot spring within my soul.   And, then I notice, for no reason at all, I'm smiling, I'm safe, I'm loved, and I have a joy that the world cannot understand nor take from me.
So where are you?  Are you living in the "dark night;" a time where if you take your eyes off Jesus, you won't make it?   Here's what I do during these long and difficult days; hang on, stay close and focused on Him, find a group of friends who will guide you along the way, and remember dark nights do not last forever;  dawn is coming!
I hate these seemingly long and difficult seasons of life but without them, our spiritual lives will not grow … deep … for God does His best work in our souls by means of the "dark nights." 
Psalm 42  - "As a deer longs for flowing streams, so my soul longs for you, O God.  My soul thirsts for God, for the living God.  When shall I come and behold the face of God?  My tears have been my food day and night, while people say to me continually, "Where is your God?"  These things I remember, as I pour out my soul:  how I went with the throng, and led them in procession to the house of God, with glad shouts and songs of thanksgiving, a multitude keeping festival."